Our Story
The Beginning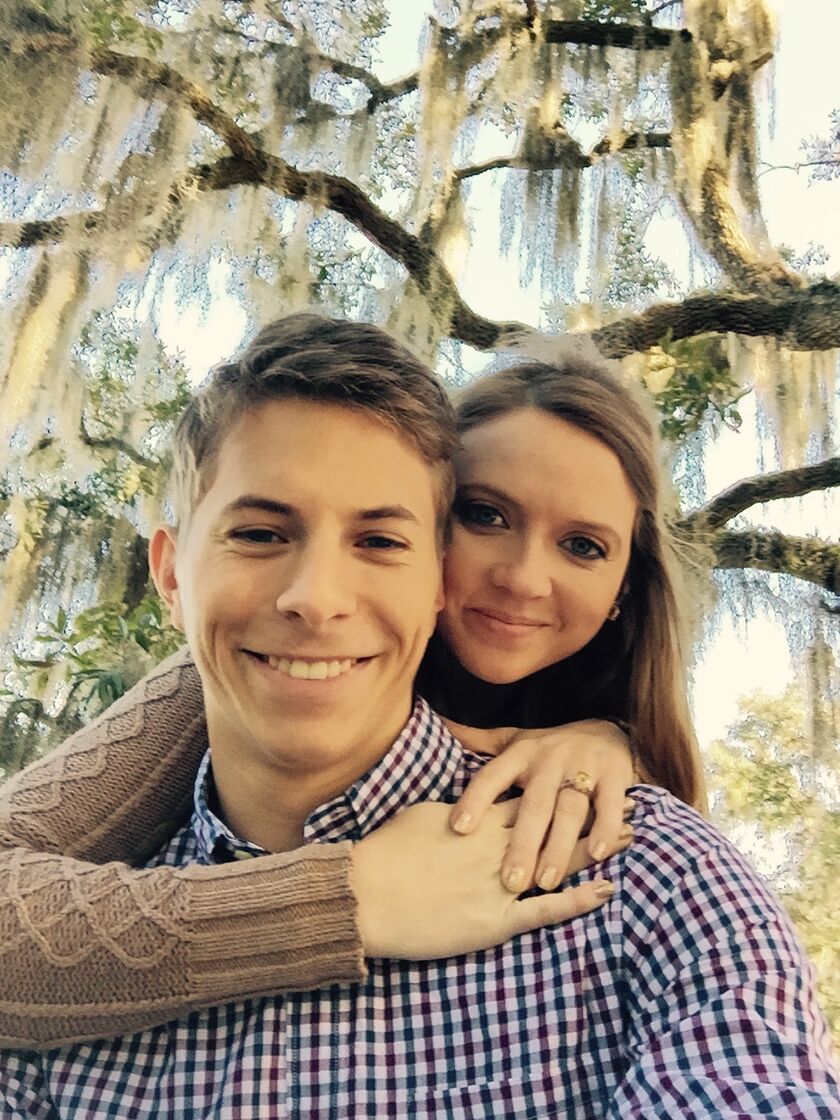 Karol and Amanda met in the summer of 2010. Karol was attending Georgia Tech studying Computer Science and Amanda was at University of Georgia as a Pre-Medicine student. Amanda was invited to a concert by a classmate on July 16th and decided to go on a whim. Karol, one to hate concerts, was begrudgingly dragged along by his best friend, Marin. This is where their stories intertwined...
Over the next several months they formed an endearing friendship that continued when Amanda moved to New Hampshire with her family. The following year Karol obtained an internship at Google and spent his summer in Mountain View, California. He invited Amanda to come visit and she accepted! It was during that week driving along the scenic Route 1 that they fell for each other over laughs and cliffside sunsets. Karol asked Amanda "will you be mine?" and the rest was history!
The Proposal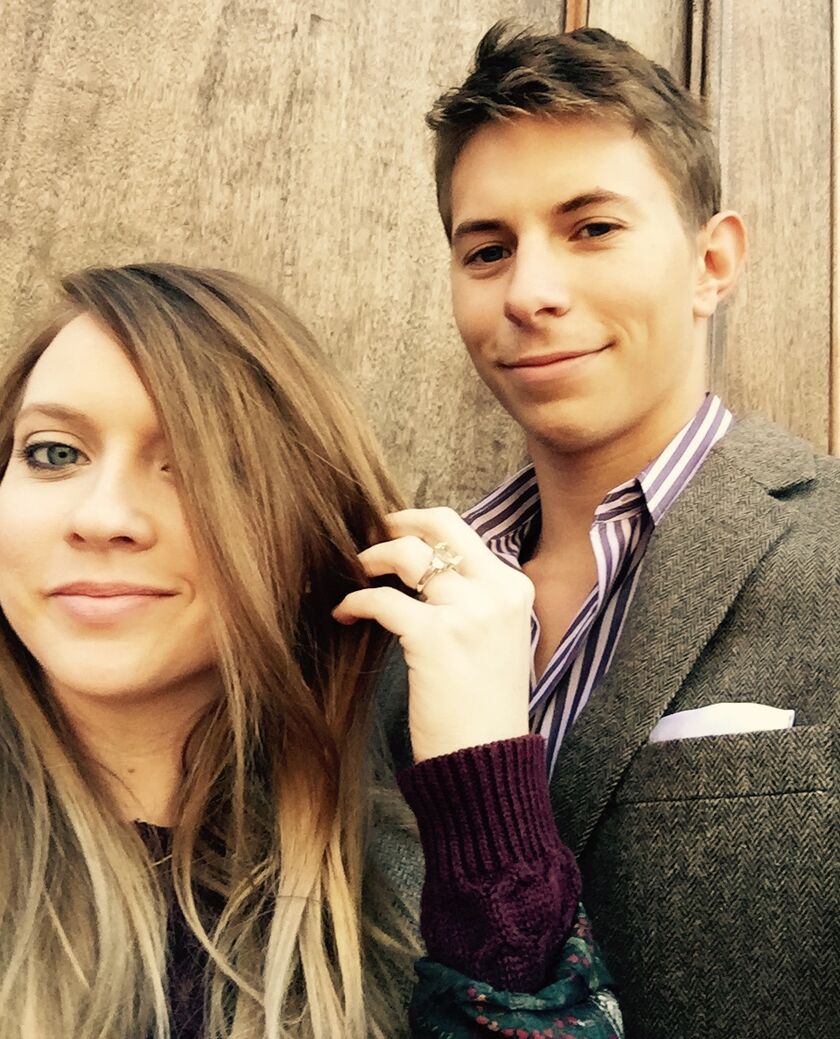 The night before Thanksgiving Karol returned home from work and told Amanda, "Pack a bag, we are leaving!". After many indecisive clothing options later they whisked away in a limousine to the opulent St. Regis hotel in Buckhead, Georgia. Needless to say Amanda was very thankful she decided to go with her classy-chic clothing option. After an evening of fine dining and champagne Amanda was very puzzled that Karol had not proposed, after all the scene was set for such a special occasion...
It was the next morning on Thanksgiving Day they sat by a quaint fireplace during brunch when Karol called Amanda's father, Barry, to request her hand in marriage. Barry, being overjoyed, told Karol how he loved him as a son and as Amanda overheard her father she broke into tears of joy. Karol was relieved & happy to have her fathers blessing, then proceeded to one knee and asked his best friend the question of a lifetime, "Will you marry me and be my best friend for life?" With tears of joy and the Macy's Day Parade broadcasting in the background, Amanda hugged him and said "YES!!! YES!...now let me see the ring!"
At Amanda's Thanksgiving Day family dinner they shared their news with everyone in sheer delight. Afterwards Karol surprised Amanda with a weekend getaway to Charleston, South Carolina where they celebrated their next fantastic chapter in life!
Our Wedding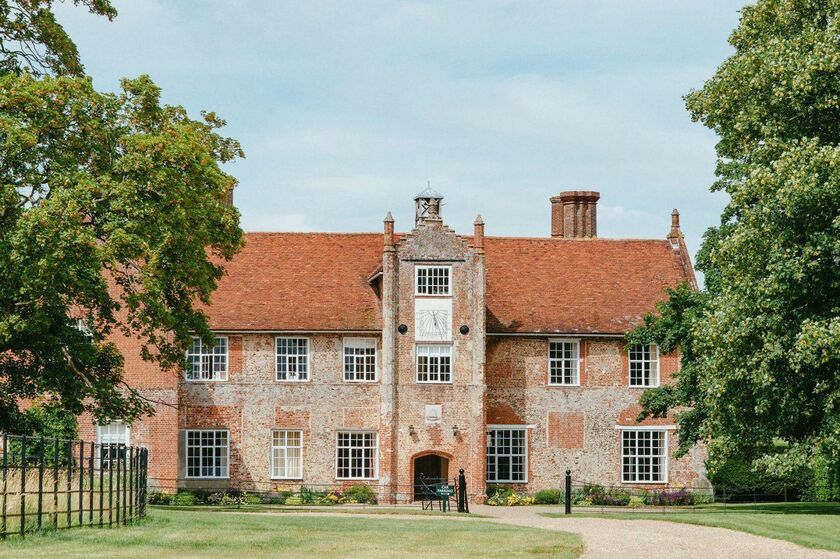 Wednesday, July 18, 2018
Attire: Black Tie
Ceremony and Reception
Bruisyard Hall
Saxmundham IP17, UK
Bruisyard Hall is set in its own 700 acre estate in the heart of beautiful Suffolk countryside in England. The hall dates back to 1354 and is therefore steeped in history. The same family –the Rous family – whose heritage in the local area dates back to 14th century has owned the Hall for an impressive 400 years. Once serving as an Abbey, many original features from the Hall's construction remain today, including oak staircases, oak-beamed attics and even a 'Sweet-toned Bell'.
Following the dissolution of the monasteries in the 1500s the Hall was rebuilt – this time to include a 'Priest's Hole' – a feature that remains to this day. The years that followed saw the home fall into a state of disrepair until the Rous Family stepped in to stop further deterioration. Nowadays the sprawling estate welcomes guests to explore its rolling parkland and revel in it's great historic past with family and friends.

Wedding Party
Ashley Landwerlen - Matron of Honor
Ashley is Amanda's only sister and sibling, and together they share a special bond. Growing up Ashley was typically keeping Amanda in line and was the source of her equine love from an early age. Amanda's fondest childhood memories are of them tying ropes onto their bicycle handlebars to mimic horse reins, this would bring about many scrapes and bruises! Thankfully, the girl's parents prevented further bicycle falls by gifting them with a horse named Katie. Together they spent many Summers riding their beloved and spirited horse. In so many ways Katie taught the girls life lessons, such as to never leave something to chance and always take precaution after Amanda had a riding accident. They were both shaken a bit afterwards but better off for it and got right back to riding. Nowaday's Amanda looks forward to creating new horseback riding memories with Ashley while in the English countryside next Summer.
Harmony Trevena - Maid of Honor
Harmony and Amanda's friendship began at Savannah College of Art & Design during their first interior design course. Harmony was unforgettable. Her bright personality and vibrant Australian accent made a lasting impression. They quickly grew close and registered to take nearly every class together. As time went on they became each others anchor to weather the countless hours of formidable school work. When Amanda became overwhelmed in grief Harmony was there holding her hand as she watched her beloved Grandmother pass away. Together they will transverse life's many journeys with less fear knowing they each have a friend in one another.
Joanna Souza - Bridesmaid
This lovely lady was introduced into Amanda's life when she moved to New Hampshire. The two grew close while working together and before long Amanda knew she found a true friend. They established a weekly dinner routine at Joanna's home nestled in York, Maine. Hours would pass as they discussed in great detail about Joanna's next home project. She was so glad to have someone to talk design with and found Joanna's creativity refreshing and inspiring. Amanda is so overjoyed to be back in New England and closer to Joanna once again.
Stephanie Abernathy - Bridesmaid
Once Stephanie and Amanda met they were instant friends! Their similarities are too many to count. Many of these commonalities lie within their interest in history, England, and really all things British. Stephanie and Amanda can spend an entire afternoon chatting over the nuances of Edwardian etiquette or share their thoughts on the Victorian era or just relax while watching British documentaries. They just get to be their true and fullest selves without concern that it's boring the other and that is so special. Amanda is lucky to have found a kindred spirit like Stephanie and looks forward to exploring all of England with her!
Marin Zaimov - Best Man
Marin and Karol became friends through their favorite sport, volleyball! Together they played on Georgia Tech's indoor club team. The two roomed together in college, it was hard to find Karol with out his sidekick Marin in tow. To no surprise the duo started careers together at the same company. Marin has the "chill" factor to counter Karol's pursuit of perfection, simply they balance each other. The stability each provide one another yields the enriched friendship many witness today. Karol was honored to be a Best Man in Marin's wedding hosted in Marin's home country of Bulgaria.
James Mauro - Groomsman
In the fall semester during Karol's sophomore year at Georgia Tech he was sitting on a bench next to the beach volleyball courts on campus. Karol had just wrapped up a weight lifting session and was watching a handful of uncoordinated freshman try to shuttle a volleyball back & forth across the net rather unsuccessfully.
Initially Karol's mind was drifting in and out when he noticed the guy at the center of the net, the setter, wasn't as bad as the overall group. Karol could tell he hadn't played very much volleyball but that this guy had a raw talent for ball control & a great standing vertical on his block.
Karol walked over, introduced himself, gave a couple unsolicited pointers and essentially recruited James to the Georgia Tech volleyball team.
Quickly, the two began hanging out and feeding off of each other's bunt and direct attitudes. James took Karol under his wing at the gym and they started hitting workouts at 5.30am every morning just because it was hardcore and tough to do (usually going to sleep right after) and they aspired to live a discipline lifestyle. They undertook this same mentality towards everything.
Despite being on the opposite sides of the East coast for over 4 their friendship remained just as strong. One can only be sure of the memorable shenanigans these two will create in England next summer.
Taylor Medford - Groomsman
Karol met Taylor in 2013 when Karol's department head of a software engineering company randomly hired a mechanical engineer. This seemed odd because prior to working with Karol, Taylor found himself in the aerospace industry as an intern at NASA. "Ha! Wow, we have a real rocket scientist on our hands", Karol thought. Nobody in Karol's office really knew what Taylor was quietly working on by himself in the corner, nor did the two talk much in Taylor's first couple months. But this would all change in due time.
On a winter day, the Atlanta crew packed up early and headed out to celebrate another successful quarter's end. Everyone moseyed over to the team's favorite watering hole in Buckhead and Karol began to break the ice with the new genius team member. Before long, the two of them started ordering so many shots that people started running away from the bar, like stampeding animals in a herd. What began as 20-30 people at first quickly turned into just Karol and Taylor.
These types of crazy night's (yes, there has been a plethora of these night's) bonded them in and outside of work. Karol & Taylor are commonly fueled by their "seize the moment" type of personalities and have complemented each other ever since. Taylor is as close as brother and is frequently at Christmas & Thanksgiving dinner's with Karol & Amanda. Taylor banters with other guests with niceties such as, "agitated molecules results in an increased thermal change...etc, etc."
Despite approaching problems differently and not always seeing eye to eye at first, there has always been a deep respect between the two of them. Taylor is always ready for go time and Karol appreciates that.
Dan Chudy - Groomsman
Dan has been with Karol nearly his entire life. The two have a 4 year gap in age so when Dan was entering high school and Karol left home to go to the Georgia Tech it was the first time they had really been apart. And even with that gap it's crazy how they both wound up back together at the start of Dan's college career, since he also choose Georgia Tech.
Growing up they played in the backyard together, traveled to Poland every summer, and spent time with their grandma together... if you've heard any of their stories (if you haven't, ask one of them for a fun story about their grandma's cooking) about their family in Poland, Dan had the same experiences as Karol and suffered through all the strange concoctions from her kitchen.
Often people look at the two brothers and say they don't look or act related. But they couldn't be further from the truth. Over the years, time has repeatedly shown that Karol & Dan share the same values and ideals; friends, and family in the highest regard. These brothers have the recognize the importance of trust, loyalty, duty, honor, and sacrifice. They each know they will always be there for one another
Few people understand what it was like for them to grow up as a first generation American family, to understand what type of parenting style was initially adopted by their father & mother 25 years ago after living in a country where resources were scarce and freedom was not guaranteed. Karol's understands Dan and he understand Karol.
Karol couldn't be more proud seeing the way his little brother has grown and is so happy to be able to share another important piece of his life with him.